While most people recognize our clinic as a leader in chiropractic treatment, less people realise that we also offer a range of complementary therapies designed to take your care to the next level. Indeed, one of the greatest benefits of chiropractic treatment is the ease with which it integrates into and supports other treatment methodologies, so today lets take a look at just one of the other services we offer, sports massage.
What is sports massage?
So what is sports massage? Fundamentally, sports massage is a form of massage involving the manipulation of soft tissue, designed to benefit a person engaged in regular physical activity"[1]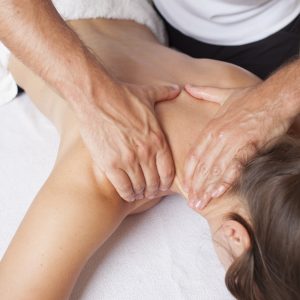 There are many incredible benefits to be achieved through regular massage therapy treatment. Whether used as a method to reduce muscle tension, as a form of relaxation or as a tool to attain relief from chronic pain, massage therapy can help. The goal of massage is to aid recuperation, warm-up and relax muscle, soft tissue, ligaments and tendons through different techniques and manipulation. Massage is proven to enhance your overall physical, physiological and psychological well-being. Like any treatment, results will vary between individuals, but some of the common benefits of massage typically include:
Improved relaxation
Minimal muscle tension
Increased range of movement
Scar tissue improvement
Anxiety reduction
Headache reduction
Relief of Insomnia related to stress
Faster recovery from soft tissue strains or injuries
Supporting recovery from Sports injuries
Support for pain management
While some of our clients certainly leverage these benefits to improve their performance in everyday life and in their sport of choice, the majority of people visiting our clinic are initially looking for relief of pain. Thankfully, massage can be highly effective in this regard too! Regular chiropractic care will, over time, result in a significant reduction of pain for most people, but massage therapy can help to bridge the gap, reducing pain while the treatment takes effect, and helping to support the spine and its surrounding musculature on an ongoing basis.
Pain management itself is based upon the 'pain gate theory'; this theory states that when satisfactory amounts of touch and pressure are provided to the body, it will close the spinal gate to prevent a pain response[2] this is the fundamental principle behind massage as a pain reduction tool.  What's more, massage has been shown to positively influence outcomes in terms of back pain treatment. A recent study, carried out by Maria Hernadex has proved that massage therapy alone can reduce lower back pain and increase lumbar range of motion. By the end of the study, participants reported experiencing less pain, depression, anxiety and improved sleeping patterns. In some cases the therapy also resulted in improved trunk and pain flexion performance.  Best of all, these results were obtained with just a 30 minute massage just twice a week. The conclusion? Massage, like chiropractic care cane be effective in reducing pain, stress and symptoms associated with chronic lower back pain – combine the two and you have a winning combination!
An effective treatment, on and off the field!
Massage therapy is also an ideal approach for addressing many common physiological issues, such as oedema. Oedemas are defined as a palpable swelling caused by an increase in interstitial fluid volume and are a common inflammatory response to muscle damage[3]. It is believed that massage can reduce swelling by increasing circulation and promoting the movement of fluid[4].
It's not just everyday issues that sports massage aims to address however, the physiological mechanisms associated with intense exercise also show improvement when massage therapy is applied. Appropriate sports massage can influence the production of biochemical substances such as increases in serotonin and decreases in plasma creatine kinase activity (plasma CK) – a muscle-specific protein which is often used as an indirect marker of exercise-induced skeletal muscle damage[5]. Zainuddin et al looked at the effects of massage on CK activity and found that CK peak value for the massage condition was 36% lower than that for the rest condition, therefore suggesting that massage may be a more suitable method for recovery from intense exercise.[6]
A versatile treatment
This brief article just scratches the surface of the ways in which massage can be applied as a stand alone treatment, and as a compliment to chiropractic care. To learn more, why not check out our massage page, or book and appointment to try out our newly renovated massage rooms!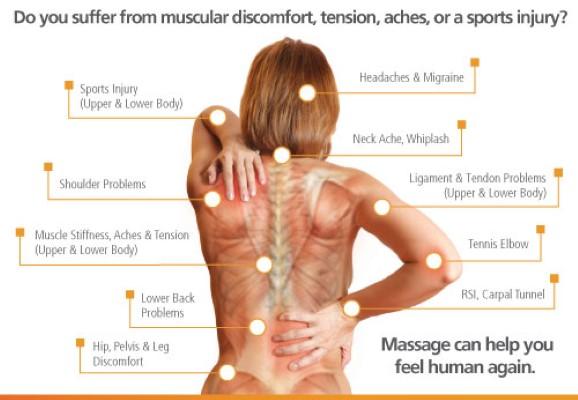 [1] Paine. T. (2015). The complete guide to sports massage. Bloomsbury Publishing. Third edition. pp.10
[2] Archer. P.A. (2007). Therapeutic massage in athletics. Lippincott Williams and Wilkins. Chapter 2. pp. 24-79.
[3] Ely. J.W., Osheroff. J.A., Chambliss. M.L. and Ebell. M.H. (2006). Approach to leg edema of unclear etiology. The Journal of the American Board of Family Medicine. 19(2). pp. 148-160
[4] Callaghan. M.J.  (1993). the role of massage in the management of the athlete: a review. British Journal of Sports Medicine. 27. pp. 28–33.
[5] Hody. S., Rogister. B., Leprince. P. and Wang. F. (2013). Muscle fatigue experienced during maximal eccentric exercise is predictive of the plasma creatine kinase (CK) response. Scandinavian Journal of Medicine and Science in Sports. 23(4). pp. 501–550
[6] Zainuddin. Z., Newton. M., Sacco. P. and Nosaka. K. (2005) Effects of Massage on Delayed-Onset Muscle Soreness, Swelling, and Recovery of Muscle Function. Journal of athletic training. 40(3).pp. 174–180.
---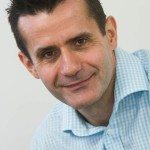 Dr. Paul Irvine is a doctor of chiropractic who graduated in 1994 with a Bachelor of Science degree from the University of NSW and in 1996, attained his Master of Chiropractic degree from Macquarie University in Australia. He practised in North Sydney for 5 years before he left Australia to travel and practise in the UK. He joined Complete Chiropractic in 2003 (est 1999) and took over the clinic in 2007