Osteoarthritis (OA) is a common condition we deal with here at the clinic. it most commonly affects the hands, spine, knees and hips.  Symptoms include joint pain, stiffness, loss of physical function, immobility of the joint and associated muscle weakness.
It's no surprise osteoarthritis is a regular issue for us, since researchers now say that osteoarthritis is one of the most prevalent musculoskeletal conditions affecting the aging population worldwide . What's more, its thought that osteoarthritis is going to become a bigger issue as our population ages.[1] [2] Traditionally, options for treating OA were either drugs, or natural treatments such as Chiropractic – new research however, suggests some new options for OA sufferers.
OA is a common problem
Today, it is estimated that OA affects about 10% of men and 18% of women over 60 years of age[3] Age is not the only factor in the development of OA, however, and while we often think og OA as an condition associated with advanced age, there are many other factors which can play a role –  research has shown that aging, genetic predisposition, obesity, inflammation, and excessive mechanical loading can all  predispose an individual to developing OA[4].
Treatment strategies
There are currently two major approaches to treating OA – these are the non-pharmacological and pharmacological therapies. Among the non-pharmacological approaches (that is to say, approaches which do not use drugs) chiropractic care is an effective modality preferred by many sufferers. You can read more about chiropractic treatment for OA here.
Considering the pharmacological therapies, analgesics and non-steroidal anti-inflammatory drugs (NSAIDs) are the most popular current treatment options for OA because of their effectiveness in addressing symptoms – however, as we have often pointed out, pharmacological approaches act as symptomatic treatments, covering up the issue without offering any improvement or at least slowing of OA.  Like all drugs, these approaches come with the risk of side effects, which themselves can be problematic. Some patients have reported adverse cardiac and digestive effects in particular.[5]
New treatments for OA
Because of the risk of side effects, attention has recently been focused on an ideal treatment, which can improve the clinical symptoms of OA with better tolerability and safety profiles. Some of the most promising compounds are known as symptomatic slow-acting drugs (SYSADOAs)[6].
Glucosamine and Chondroitin are as important candidates within the realm of SYSADOA's as far as the treatment of OA is concerned. Glucosamine and Chondroitin are both naturally occurring substances in the body – the current thinking is that Glucosamine and Chondroitin are both partially absorbed, and then are transported to the joints, where they act to relieve joint pain and slow the rate of joint destruction and cartilage loss.
There is now a body of evidence which suggests these simple compounds may be effective in treating OA – a study published in 2013 suggested that consumption of Chondroitin at a certain dosage has a positive effect on pain relief and function improvement [7]. Although many studies have shown a significant treatment effect (and it should be noted, effect with a very low risk of side effects) there is still some controversy regarding the effectiveness of these compounds.
The latest research on Glucosamine and Chondroitin

In order to address this issue, 2018 study[7] has conducted a meta-analysis of a large number of studies which have considered the effectiveness of Glucosamine and Chondroitin in an attempt to answer this question. In total, 30 individual research studies were considered, between which results from a total of 7172 participants were included.  With the results, the study investigators looked to determine the effectiveness of Glucosamine and Chondroitin based on safety, stiffness reduction, pain reduction and ease of joint function.
In its conclusion the study showed that it can be definitively stated that oral chondroitin is more effective than a placebo on relieving pain and improving physical function. Whereas, when compared with placebo, glucosamine showed a significant effect in the reduction of stiffness.   In both instances, the overall safety of the treatment was very high[8].
In reality, Glucosamine and Chondroitin are often used in combination to treat OA, but the study authors noted a lack of information in this regard – since only two of the studies they reviewed used a combination approach.
Treating osteoarthritis at Complete Chiropractic
Here at Complete Chiropractic, we regularly help patients to manage and improve their quality of life with OA. As a clinic, we recommend Glucosamine and Chondroitin to our OA sufferers as compliment to their chiropractic care – we cant offer you a meta analysis of over 7000 participants, but if you're suffering with OA why not check our customer reviews to get a feel for some of the results possible when combining Glucosamine and Chondroitin with proper chiropractic care.
[1] Glyn-Jones S, Palmer AJ, Agricola R, et al. Osteoarthritis. Lancet. 2015; 386(9991):376–87.
[2] Lotz M, Martel-Pelletier J, Christiansen C, et al. Value of biomarkers in osteoarthritis: current status and perspectives. Ann Rheum Dis. 2013;72(11): 1756–63.
[3] Glyn-Jones S, Palmer AJ, Agricola R, et al. Osteoarthritis. Lancet. 2015; 386(9991):376–87.
[4] arc OC, arc OC, Zeggini E, et al. Identification of new susceptibility loci for osteoarthritis (arcOGEN): a genome-wide association study. Lancet. 2012; 380(9844):815–23.
[5] Essex MN, O'Connell MA, Behar R, Bao W. Efficacy and safety of nonsteroidal anti-inflammatory drugs in Asian patients with knee osteoarthritis: summary of a randomized, placebo-controlled study. Int J Rheum Dis. 2016;19(3):262–70
[6] Zegels B, Crozes P, Uebelhart D, Bruyere O, Reginster JY. Equivalence of a single dose (1200 mg) compared to a three-time a day dose (400 mg) of chondroitin 4&6 sulfate in patients with knee osteoarthritis. Results of a randomized double blind placebo controlled study. Osteoarthr Cartil. 2013;21(1):22–7.
[7] Zhu et al. Effectiveness and safety of glucosamine and chondroitin for the treatment of osteoarthritis: a meta-analysis of randomized controlled trials Journal of Orthopaedic Surgery and Research (2018) 13:170
[8] Ibid.
---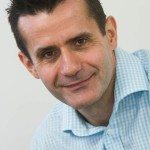 Dr. Paul Irvine is a doctor of chiropractic who graduated in 1994 with a Bachelor of Science degree from the University of NSW and in 1996, attained his Master of Chiropractic degree from Macquarie University in Australia. He practised in North Sydney for 5 years before he left Australia to travel and practise in the UK. He joined Complete Chiropractic in 2003 (est 1999) and took over the clinic in 2007