Advice from Chelmsford Chiropractor Dr Paul Irvine DC
Stretch your muscles instead of stretching to reach the sugary snacks!
It's 3 o'clock in the afternoon and you've been sitting at your desk all day. You debate running to get yet another cup of coffee to stay alert, because what you really want to do is curl up in the corner of your cubicle and take a nap! This is the time to do some "desk stretches" to revive your energy. Without the caffeine!
We often find ourselves sitting tense at our desks in front of a computer monitor for hours. Our wrists start to hurt, our necks get sore, we slump over in our chairs and our shoulders and upper backs feel tight.
Here are some stretches to do at your desk to reduce tension. Try them now:
Shoulder Stretch – Lift your shoulders up to your ears until you feel a slight tension in your neck and shoulders. Hold for 3-5 seconds and relax shoulders. Do this 2-3 times at first sign of shoulder or neck tension.
Neck Stretch – Tilt your head to one side, trying to touch your ear to your shoulder. Hold the stretch for 10-20 seconds and then return to normal. Repeat the stretch on the other side.
Spine Stretch – Raise arms over head. Stretch your right hand to the ceiling and hold for 3-5 seconds, while you exhale. Relax. Repeat with the left hand.
Lower Back Stretch – Place your hands on the edge of your desk and roll your chair back. Lower your head between your outstretched arms and arch your back while you exhale. Inhale, raise your head and arch your back in the other direction.
Do these exercises whenever you first notice the tension or stress from impending deadlines or long periods of sitting. While they'll never take the place of your chiropractic adjustments, they'll help keep you alert without resorting to caffeine or a sugar fix.
Reprinted with kind Permission Perfect Patients
---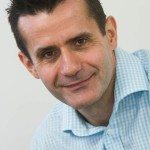 Dr. Paul Irvine is a doctor of chiropractic who graduated in 1994 with a Bachelor of Science degree from the University of NSW and in 1996, attained his Master of Chiropractic degree from Macquarie University in Australia. He practised in North Sydney for 5 years before he left Australia to travel and practise in the UK. He joined Complete Chiropractic in 2003 (est 1999) and took over the clinic in 2007