Right now, most of us are focused on COVID 19 – that's only natural, it's been the biggest feature of our lives for over a year now. This being said, it is also important to keep an eye on other conditions which, now more than ever, may be going unnoticed. Next month is Scoliosis awareness month and we'll be working hard to, well, raise awareness!
What is Scoliosis?
Scoliosis, as you may know, is a condition of the spine which causes the spine to have an "S" shape when viewed from behind. Scoliosis is typically classified according to its cause and time of life it develops or is diagnosed – children can be born with scoliosis for a variety of reasons, but this is somewhat rare.
Most scoliosis cases are classified as "Idiopathic" which means the exact cause is unknown. Juvenile idiopathic scoliosis onsets between 3 and 9 years while adolescent idiopathic scoliosis onsets between 10 and 15 years.
Scoliosis is also common in adults, especially older adults (over 65's) where as many as one in three may suffer from a form of Scoliosis known as degenerative or "de-novo" scoliosis.
All forms of scoliosis can be treated, but, like almost any condition, are far easier to treat when spotted early. This is even more critical in younger patients since scoliosis can progress very quickly in younger people.
What is Scoliosis awareness month?
Organised by the Scoliosis Research Society, one of the most important organisations in the world of scoliosis treatment, scoliosis awareness month aims to:
Highlight the importance of early detection and the effectiveness of bracing as an effective form of non-surgical treatment for scoliosis.
To have every state, district and commonwealth to officially declare by proclamation their observance of National Scoliosis Awareness Month during the month of June.
Increase public awareness of scoliosis and related spinal deformities through educational and advocacy campaigns of local activities, and community events during the month of June and throughout the year
Unite scoliosis patients, families, physicians, and clinicians in a collaborative partnership that educate, and advocate, for patient care, patient screening, patient privacy, and patient protection
Build networks of community collaborations and alliances to help sustain and grow the campaign
Originally a one-off event, scoliosis awareness month is now held in June each year, and it's a prime opportunity to raise awareness and create the opportunity for those in the community to access screening and treatment. The fact that the event has now gone yearly is a fantastic indication that the message about scoliosis is getting out there, but with so many people requiring surgeries which could have been avoided each year, there's still more work to do!
This year, we'll be running some special events to help promote Scoliosis awareness – but like everything, we're probably going to be somewhat limited by COVID. For this reason, we're hoping that you, our readers and clients will help us spread the word about Scoliosis awareness amongst your friends and family, and online.
Scoliosis awareness – what can I do?
Now more than ever, it's raising awareness which is key. It's entirely sensible that COVID has garnered much of our attention over the last year or so, but a side effect has been that other conditions have lost visibility. While scoliosis is now becoming easier than ever to treat (at least when spotted early) one of the biggest issues we face today is the fact that most people are still unaware of it. Although scoliosis affects approximately 3 or 4 percent of children, and as much as 40% of the over 60's many people have never even heard of the condition and they certainly aren't screening for it. Screening for scoliosis takes just minutes, can be done at home, and can change a life.
This lack of awareness means that parents, friends and carers – with the best will in the world – just don't know the signs or what to do if they have concerns, even if they spot something without screening. There have been well-organised campaigns to make the public aware of potentially serious conditions, such as meningitis, in children and adolescents, but almost nothing on scoliosis.
Simply talking to friends and family about scoliosis can, therefore, make a massive impact. Using tools like ScoliScreen, its easy to estimate your risk profile and to find out how to seek help, but raising initial awareness depends upon conscientious members of the public highlighting the issue – during June, well be running various campaigns, asking you to speak to friends and loved ones about scoliosis, and point them to our free resources – working together we can prevent hundreds, if not thousands of unnecessary surgeries this year.
We'll be posting more information on our plans very soon!
---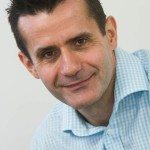 Dr. Paul Irvine is a doctor of chiropractic who graduated in 1994 with a Bachelor of Science degree from the University of NSW and in 1996, attained his Master of Chiropractic degree from Macquarie University in Australia. He practised in North Sydney for 5 years before he left Australia to travel and practise in the UK. He joined Complete Chiropractic in 2003 (est 1999) and took over the clinic in 2007