Christmas is finally here, and for the most part that means having a great time – but then there's the stress… stress of preparing for relatives, stress of buying all those presents on time, stress of cooking the dinner and perhaps putting together all the toys! And its not just emotional stress – be sure to take the time and consider your spine this Christmas to avoid unnecessary back pain!  Christmas should be an enjoyable time of the year but stress can get in the way, so today, lets look at some stress-free Christmas tips!
Stress, pain, and stress
As I chiropractor, reducing patients overall stress levels is something that I strive to assist with, since it's a well-established fact that high stress can contribute to a variety of health problems, while relatively low stress actually reduces your risk of some conditions. That being said, at Complete Chiropractic we spend most of our time helping patients overcome neck, back and shoulder pain and these conditions in particular are all exacerbated by stress. In turn, the increased pain leads to more stress, and creates a vicious cycle, which can really spoil your Christmas cheer!
Don't get stiff!
While its normal to spend time over Christmas simply relaxing and enjoying time with family, do try to stay active and mobile – especially if you're currently undergoing treatment for pain. Getting stiff and achy through lack of activity could make a pain flare up more likely. Take some time out of your day to run through any stretches or exercises you normally perform, and try to get out for some light exercise, even if its just a stroll.
Good enough, is enough!
Given all the hype and excitement around Christmas which (now seems to start around the middle of November) you can certainly be forgiven for comparing your own decorations, dinner or present wrapping to the examples which are presented on the TV or in magazines. The problem is these examples are usually put together by a team of experts (yes, there are pro Christmas decorators!) and require way more effort than one person can reasonably be expected to put in! Don't get us wrong, if cooking the perfect dinner is something you enjoy then go for it – but if being stuck in the kitchen for 3 hours is your idea of hell, there's noting wrong with grabbing some pre-prepared foods.
You can't please everyone
Especially for those of us with large families, Christmas is always going to bring drama and some degree of conflict about where celebrations are going to take place and who is going to spend the day with who. This is totally normal, but sadly its also true that more incidents of anxiety, stress and depression are reported around Christmas than at any other time of the year. This year simply give yourself permission to accept that you can't please everyone. If you have a large family, consider spending Christmas eve, Christmas day, and boxing day with different sides of the family if necessary – this way you actually get three lots of Christmas dinner!
Get a handle on present buying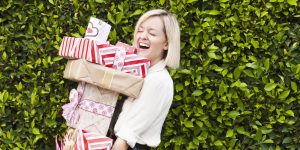 Even if you've left it until now there still time to order gifts online – if you're quick! You can cut down on the stress of trying to figure out what to buy by taking advantage of websites like amazon, who spend literally millions of pounds every year in researching what's hot for just about every group and demographic you can think of. Check out the top buys on one of the large sites and save yourself a heap of time and stress!
Too late for the shops or someone just too hard to buy for? Try vouchers or gift certificates (which can often be delivered immediately via email)
Avoid injury with proper lifting technique.
It goes without saying that watching how you lift is worth your time, since errors in lifting technique are one of the most common causes of back injury – but at Christmas this is especially important. Do be careful when lifting presents, especially if you don't know the weight of the contents! Take the time to help elderly friends or relatives when unloading presents from the car and play it safe when bringing presents downstairs, ensure you can always see where you're going!
For a safe lift, remember always: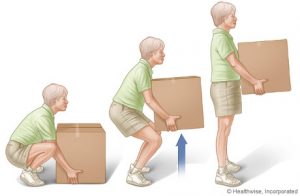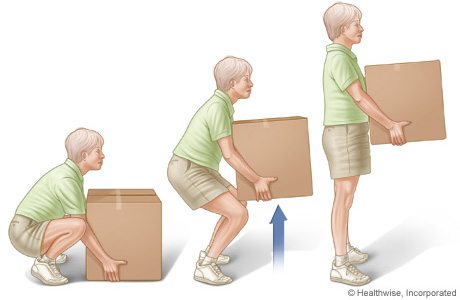 Keep a wide base of support. Your feet should be shoulder-width apart, with one foot slightly ahead of the other (karate stance).
Squat down, bending at the hips and knees only. If needed, put one knee to the floor and your other knee in front of you, bent at a right angle (half kneeling).
Keep good posture. Look straight ahead, and keep your back straight, your chest out, and your shoulders back. This helps keep your upper back straight while having a slight arch in your lower back.
Slowly lift by straightening your hips and knees (not your back). Keep your back straight, and don't twist as you lift.
Hold the load as close to your body as possible, at the level of your belly button.
Use your feet to change direction, taking small steps.
Lead with your hips as you change direction. Keep your shoulders in line with your hips as you move.
Set down your load carefully, squatting with the knees and hips only.
Why not give the gift of pain relief?
If you're still looking for a unique and long lasting gift, why not consider buying someone an initial consultation here at Complete Chiropractic? Have a family member whose been struggling with back pain? Got a friend who just never gets around to taking time for themselves? Give the gift of a pain relief this year and give them something they'll appreciate for years to come!
Happy Christmas everyone!
All of us at complete chiropractic wish all of our clients and readers a fantastic Christmas and a happy new year.  We look forward to seeing you all again soon.
---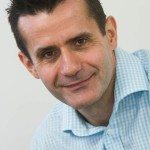 Dr. Paul Irvine is a doctor of chiropractic who graduated in 1994 with a Bachelor of Science degree from the University of NSW and in 1996, attained his Master of Chiropractic degree from Macquarie University in Australia. He practised in North Sydney for 5 years before he left Australia to travel and practise in the UK. He joined Complete Chiropractic in 2003 (est 1999) and took over the clinic in 2007