Headache and migraine are both common conditions which we regularly see at the clinic. Many of us turn to medication to manage headache, but there are many negative health implications associated with doing so. By contrast, Chiropractic treatment is quick, safe and effective in treating headaches. This week, let's learn about how we can treat headaches with chiropractic care.
How common are headaches?

Most of us have experienced or know someone who experiences headaches. In fact, tension headache and migraine are the most common recurrent primary headaches globally[1] , and cervicogenic headache is one of the most common recurrent secondary headaches[2]. Like back pain, headache is a common cause of days off work and disability in everyday life. So far, research is not clear on the economic impact of headache,[3] but the societal impact of tension headache and migraine are significant and well documented[4].
In the collaborative study between the World Health Organisation (WHO) and the 'Lifting The Burden' campaign, survey information was collected from neurologists and general practitioners in order to better understand how these providers approach headache diagnosis and management[5]. The findings of the report provided important insights into the use of headache diagnostic criteria, headache assessment tools, headache treatment and interdisciplinary collaboration. While headache is most often managed by general practitioners and neurologists, the report also found headache patients report a clear preference for the use of complementary and alternative treatments for headaches including physical based therapies and acupuncture.
Can chiropractors treat headache?
In short, yes! Chiropractic care is one of the most frequently used, non-dug-based approaches to treating headaches. In a recent national US study, manipulative-based physical therapies were reported to be the most frequently used complementary and alternative treatments for migraine and headache patients[6]. In North America, a general population study reported between 25.7–36.2% of migraine headache patients had sought help from chiropractors at some time[7]. In Australia, chiropractic utilisation by those with headache was reported to be 9.3% in the preceding 12 months[8], and one international study found chiropractors to be the second and third most common health care provider by those with migraine in Australia and the United States respectively[9].
The results of a study just published[10] also suggest that a large percentage of new and routine chiropractic patient consultations are related to headache management, with around one in five new patients presenting to chiropractors with a chief complaint of headache and more than one in three presenting with a secondary complaint of headache.
How do chiropractors treat headache?
Perhaps the most important thing to keep in mind is here is that chiropractors do not treat headaches with medication! Today we are quick to reach for painkillers, but research indicates that while they may provide a quick fix initially, painkilling medication often exacerbates conditions over the long term.  For instance, regular use of painkillers for headache actually appears to cause more headaches to occur.[11]
Rather than relying on medication to mask the pain, chiropractors use gentle manipulations called adjustments to correct misalignments of the spine, which can often be the cause of headache. Other common issues include poor posture and muscular problems, which chiropractors are also well placed to address.
What's more, whereas many people rely on drugs on a near-permanent basis to manage their headache the 2018 study mentioned above, showed that chiropractic treatment can work very quickly.  When treating headaches of less than 3 months, approximately 30% of patients under chiropractic care reported significant improvement in under 10 sessions.  In the same study, approximately 50 percent of the patients were treated over a period of 2 weeks or less, with the rest all being treated over no more than 8 weeks.
The same study also provided a great deal of detail on the treatments which chiropractors most often prescribe for headaches – critically, the ideal approach varied slightly depending on headache cause. The most frequent therapeutic approach by participants for migraine management was advice on headache triggers (94.1%), stress management (89.4%) and  spinal mobilisation (88.4%).
The most frequent therapeutic approach by participants for tension headache management was advice on headache triggers (90.9%), stress management (90.1%) and soft tissue therapies (massage, myofascial, stretching or trigger point therapy) to the neck/shoulder area (88.1%).
For cervicogenic headache management, the most favoured approach was prescription exercise for the neck/shoulders (91.7%), spinal manipulation (90.6%) and soft tissue therapies (massage, myofascial, stretching or trigger point therapy) to the neck/shoulder area (88.3%).
The important thing t take away from these results is the fact that chiropractors treat individuals rather than just conditions. Unlike a drug based approach, chiropractic care can, and should, be tailored to the kind of headaches being experienced. At Complete Chiropractic, we have specialists in all of the recommended approaches on hand at the clinic.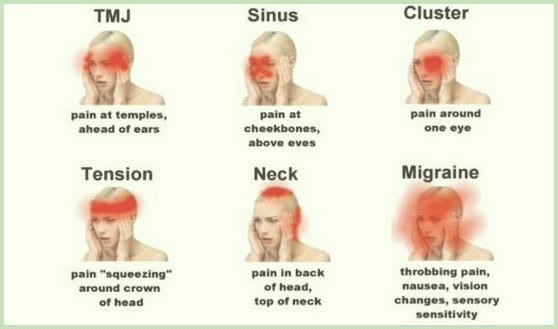 Are you suffering from headache?
If you're suffering from headaches or migraine please know that there is a drug-free, pain-free and speedy way to reduce and resolve the problem. Don't suffer in silence, get in touch today and take advantage of our new patient special to grab yourself a discount initial consultation!
[1] Vos T, Flaxman AD, Naghavi M, Lozano R, Michaud C, et al.: Years Lived with Disability (YLDs) for 1160 Sequelae of 289 Diseases
and Injuries 1990-2010: A Systematic Analysis for the Global Burden of Disease Study 2010 Lancet. 2012 (Dec 15); 380 (9859): 2163–2196
[2] Sjaastad O, Fredriksen T.  Cervicogenic headache: criteria, classification and epidemiology.  Clin Exp Rheumatol. 2000;18:S-3  Sjaastad O, Bakketeig LS.  Prevalence of cervicogenic headache: Vågå study of headache epidemiology.  Acta Neurol Scand. 2008;117:173–180
[3] HAv S, Lamé I, van den Berg SGM S, AGH K, WEJ W.  Quality of life of patients with cervicogenic headache: a comparison with control subjects and patients with migraine or tension-type headache.  Headache. 2003;43:1034–104
Gesztelyi G, Bereczki D.  Determinants of disability in everyday activities differ in primary and cervicogenic headaches and in low back pain.  Psychiatry Clin Neurosci. 2006;60:271–276
[4] Zebenholzer K, Andree C, Lechner A, Broessner G, Lampl C, et al.  Prevalence, management and burden of episodic and chronic headaches—a cross-sectional multicentre study in eight Austrian headache centres.  J Headache Pain. 2015;16:46
Lanteri-Minet M.  Economic burden and costs of chronic migraine.  Curr Pain Headache Rep. 2014;18:385
[5] WHO Lifting the Burden
http://www.who.int/mental_health/management/who_atlas_headache_disorders.pdf?ua=1
Accessed 1 Sept 2018.
[6] Zhang Y, Dennis JA, Leach MJ, Bishop FL, Cramer H, Chung VC, et al.
Complementary and alternative medicine use among US adults with headache or migraine: results from the 2012 National Health Interview Survey.  Headache. 2017;57:1228–1242
[7] Bigal ME, Serrano D, Reed M, Lipton RB.  Chronic migraine in the population burden, diagnosis, and satisfaction with treatment.  Neurology. 2008;71:559–566
[8] Xue C, Zhang A, Lin V, Myers R, Polus B, Story D.  Acupuncture, chiropractic and osteopathy use in Australia: a national population survey.  BMC Public Health. 2008;8:105
[9] Sanderson JC, Devine EB, Lipton RB, Bloudek LM, Varon SF, Blumenfeld AM, et al. Headache-related health resource utilisation in chronic and episodic migraine across six countries.  J Neurol Neurosurg Psychiatry. 2013;84:1309–1317
[10] Craig Moore, Andrew Leaver, David Sibbritt, and Jon Adams The Management of Common Recurrent Headaches by Chiropractors: A Descriptive Analysis of a Nationally Representative Survey BMC Neurol. 2018 (Oct 17); 18 (1): 171
[11]Dr. Alan Rapoport et al. Analgesic Rebound Headache in Clinical Practice: Data From a Physician Survey Headache, The Journal of Head and Face Pain 1996;36: 14
---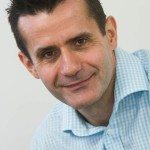 Dr. Paul Irvine is a doctor of chiropractic who graduated in 1994 with a Bachelor of Science degree from the University of NSW and in 1996, attained his Master of Chiropractic degree from Macquarie University in Australia. He practised in North Sydney for 5 years before he left Australia to travel and practise in the UK. He joined Complete Chiropractic in 2003 (est 1999) and took over the clinic in 2007