We would like to take the opportunity to wish all of our patients a very happy Easter, and hope that you all enjoy some well earned time off over the bank holidays! We continue to be grateful for all the support you show us and the clinic!
Although it's likely to be a slightly unusual Easter for many of us, we hope you're able to catch up with family and friends (… in groups of no more than 6…) in the garden or at the park. Wherever you can, take advantage of the improving weather to get out, get active and enjoy life!
As usual, Complete Chiropractic will be closed April 2nd – 5th, back open as usual on Tuesday 6th.
Paul will also be taking a little bit of time off over Easter to attend to his Dad duties, whilst the kids are on holiday. He's looking forward to some family bike rides and walks in the countryside, which may or may not also involve getting soaked.
Paul will be on break from the 6th – 9th, but have no fear, the clinic will be OPEN in the competent hands of Dr Adam Wilson (DC). Paul will be back as usual on the 12th.
Happy Easter one and all!
---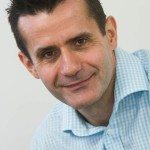 Dr. Paul Irvine is a doctor of chiropractic who graduated in 1994 with a Bachelor of Science degree from the University of NSW and in 1996, attained his Master of Chiropractic degree from Macquarie University in Australia. He practised in North Sydney for 5 years before he left Australia to travel and practise in the UK. He joined Complete Chiropractic in 2003 (est 1999) and took over the clinic in 2007