At Complete Chiropractic in Chelsmford we see new clients who want help for many different types of aches and pains.  As more of our time is filled with smart phones, tablets, and computer work, a growing number of people are complaining of wrist pain and even carpal tunnel syndrome. Unfortunately, for people whose jobs require them to sit in front of screen all day, it's not a simple matter of decreasing your use to avoid the pain. So what can you do beside popping pain pills and even resorting to surgery? A case study published in the Journal of Chiropractic Medicine demonstrates how chiropractors could be part of the solution.
The case study focused on a 47 year-old woman who worked at a computer all day entering data. When she noticed significant weakness, pain, and disability in her wrists, she visited her doctor. She had developed carpal tunnel syndrome and cysts in her wrists. For two years, she tried numerous treatment methods, including wearing a splint and surgery, but nothing seemed to work.
The authors of the study created a new treatment plan that included chiropractic adjustments, soft-tissue therapies, and exercises. After three months, the patient's pain had dropped significantly, and the tingling and numbness had disappeared completely. She also had major improvements in wrist strength and range of motion.
Although the woman was permanently impaired, multifaceted, chiropractic treatment alleviated many of her symptoms. This lead researchers to conclude that her treatment was successful.
Chiropractic adjustments can help carpal tunnel syndrome by relieving the compression of nerves in the neck and arm that can cause pain. Your chiropractor can also work to relax muscles and reduce inflammation, and can prescribe exercises and stretches that can strengthen the muscles, decrease disability, and promote healing.
Don't let carpal tunnel syndrome interfere with your life. Contact us at Complete Chiropractic in Chelmsford today to see how we can help.
Reference
Crafts, GJ, GJ Snow, and KH Ngoc. "Chiropractic management of work-related upper limb disorder complicated by intraossesous ganglion cysts: a case report." Journal Chiropractic Medicine 2011; 10.3: 166-172.
---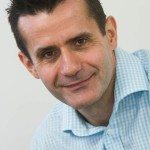 Dr. Paul Irvine is a doctor of chiropractic who graduated in 1994 with a Bachelor of Science degree from the University of NSW and in 1996, attained his Master of Chiropractic degree from Macquarie University in Australia. He practised in North Sydney for 5 years before he left Australia to travel and practise in the UK. He joined Complete Chiropractic in 2003 (est 1999) and took over the clinic in 2007