Good morning to everyone and I hope you are all doing well! It's now been a week since we closed the clinic and I'm missing everyone already! Right now, no one knows how long the current situation is going to last – or when it might at least start to be relaxed. While this is obviously stressful, and being stuck at home isn't exactly ideal for optimum health, it's still more than possible to stay fit, healthy and motivated with limited space and resources. For the next few weeks, our blogs will be focusing on helping you to do exactly that. This week lets take a look at easy ways to exercise at home.
How to exercise at home
Many people chose to exercise at home as a preference, so while it's a little frustrating for those of you who currently can't go out – home-based exercise is most certainly possible, and effective. Many home exercisers like to invest in equipment such as a treadmill or bike – and if you've been thinking about making such a purchase now might be the time! That being said, there are lots of fun and creative ways to get a decent workout with what you already have to hand.
Option 1 – Bodyweight exercise.
While bodyweight exercise often gets overlooked in today's highly tuned gym environment, it's still an incredibly effective way to exercise, and one which requires no equipment at all.
Using your own weight, you can perform cardio or strength training – and by circuit training (going from one exercise to the next, without little or no rest), you can really max out the process, keep your heart rate up, burn more calories and get the most out of your exercise time.
The easiest way to create a home workout plan based on bodyweight exercise is to choose 10 different individual exercises to focus on. The trick (with all exercise, but especially when using bodyweight techniques) is to perform exercises properly and with good form – therefore, chose a balance of individual exercises covering the whole body, and then practice them.
For cardio, focus on exercises with different levels of intensity. For example, you might alternate a high-intensity exercise (such as jumping jacks or burpees) with an easier move (such as marching in place). For strength training, choose pushes, pulls, front-of-leg, back-of-leg, and core movements, such as squats, lunges, pushups, and dips. Exercise ideas: Step by Step Cardio Exercises, Step by Step Bodyweight Exercises
While you can't vary the resistance (or weight) used in bodyweight exercises, you can vary the time, or repetitions (reps)  – beginners might start with 10-30 seconds or 8-16 reps, while intermediate or advanced exercisers might go for 60-90 seconds or 20 or more reps Do 1 circuit if you're a beginner or short on time. Do 2-5 circuits for a more intense workout
Bodyweight exercises can be done in a very small space if needed, but can also be performed in the garden if it's not too cold.
Option 2 – Gaming
Gaming?! That's a form of exercise? Today, it's not true that games are just for couch potatoes – there are a wide variety of so-called "exergames" which are fun and a great way to get fit. Some specialist games, such as EA Sports Active, or Everybody Dance are specifically designed to burn calories – others, such as Wii Fit or Everybody's golf are designed primarily for fun – but also do provide good exercise. Most people can access these games via your consoles built-in store and download them directly – so no need to go out.
Option 3 – Gardening
It might feel like the end of the world, but it's still spring and time to get out in the garden. If you've got garden work to do, there's never been a better – and more useful time to get it done. Gardening is great for mental health, but also physical health. The average adult (depending on their weight) can burn anything from 350 – 450 calories an hour doing garden work, which compares favourably with dedicated exercises such as walking or biking.
If you're getting outside to spruce up the lawn – do be careful of your back at this time though. Every year, we see many clients with a gardening-related back strain and now isn't the best time to get injured. You have plenty of time, so play it safe and use half a shovel, half a bucket etc.
Option 4 – Spring cleaning!
Yes, it's another one of those jobs which often just gets skipped – but again, you have the time right now, so why not kill two bird with one stone? It's easy to sniff at the idea of cleaning as exercise, but believe it or not, at least one study has suggested that conducting a thorough spring cleaning can burn up to 3,655 calories — more than the 2,500 to 3,500 calories spent running a marathon. Wow.
If you're lackadaisical about your dusting, vacuuming, and cupboard cleaning, you probably won't reach those levels, but if you approach your cleaning more as a workout than simply a chore, there's a potential to burn some serious energy along the way – while we're not encouraging you to become obsessive, cleaning is also something which needs to be done regularly and therefore represents a very real way to shed some pounds while making everything just that little bit nicer to look at!
Watch this space
As the current situation evolves, we'll be working to bring you more content like this to help you stay safe and fit at home. We're currently working on a number of ideas and will update you all as soon as possible! Stay safe everyone!
---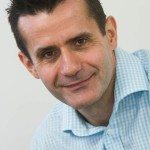 Dr. Paul Irvine is a doctor of chiropractic who graduated in 1994 with a Bachelor of Science degree from the University of NSW and in 1996, attained his Master of Chiropractic degree from Macquarie University in Australia. He practised in North Sydney for 5 years before he left Australia to travel and practise in the UK. He joined Complete Chiropractic in 2003 (est 1999) and took over the clinic in 2007