Spinal Awareness Week is a national initiative from the United Chiropractic Association and will be held every May. The theme for this year's Spinal Awareness Week 11th – 15th May is:
'Move Better-Live Better'
Through Spinal Awareness Week we plan to educate and encourage people to introduce changes to their lifestyle that will allow them to Move Better and ultimately Live Better. Chiropractors acknowledge that the elderly population in the UK is increasing and through Chiropractic care and advice can not only improve the independence and quality of life of the elderly but also reduce the financial burden on an already stretched NHS. Chiropractors have much to offer this rapidly expanding demographic group, not the least of which is maintenance of spinal flexibility, improving posture and balance.
One of the leading causes of death in the elderly is falling, nearly one in three elderly adults falls every year with approximately 35% being hospitalised as a direct result of their fall. These tragedies could be prevented through proper postural corrections that have shown to improve balance.
During Spinal Awareness Week, UCA chiropractors will be offering health promotion and wellness advice for older adults seeking to maintain and improve mental and physical fitness. As you age, positive attitudes about lifestyle changes can vastly improve your quality of life. UCA Chiropractors will be giving screenings and health talks as well as offering advice on improving mobility, flexibility and fall prevention.
Our objective is to 'Make Health Last' and through chiropractic adjustments, exercise and diet advice, Chiropractors can have a huge effect on the health of not just our ageing population but everyone.
---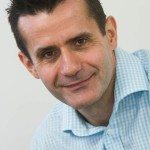 Dr. Paul Irvine is a doctor of chiropractic who graduated in 1994 with a Bachelor of Science degree from the University of NSW and in 1996, attained his Master of Chiropractic degree from Macquarie University in Australia. He practised in North Sydney for 5 years before he left Australia to travel and practise in the UK. He joined Complete Chiropractic in 2003 (est 1999) and took over the clinic in 2007