Have you been suffering aches, pains and discomfort?  Back pain, neck pain, shoulder pain, headaches and migraine are common symptoms that relate to nerve irritation and posture problems that a chiropractor can help with.  Chiropractic is a safe and effective treatment for people of all ages. Many aches, pains and chronic health problems respond well to our chiropractic care. If you're in pain then a visit to our Chiropractor could help you too.
Our recently refurbished clinic features state of the art facilities including digital X-ray technology, designed to make sure you get well quicker and stay better for longer.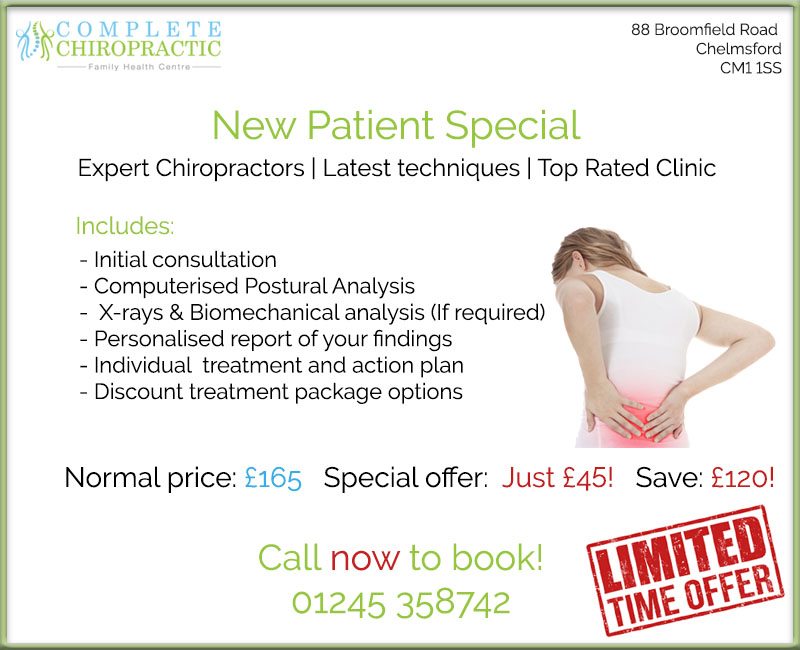 Limited time offer – ends 30th November!
  Qualified Chiropractor – Convenient Chelmsford Location – X-Rays On Site
Call our friendly team today on (01245) 358 742
 Our experienced  Chelmsford Chiropractor is registered with the General Chiropractic Council and a member of the United Chiropractic Association.
If you'd like to discuss any aspect of Chiropractic care at our clinic in Chelmsford before making an appointment, our team are pleased to help.  Many new patients have not seen a Chiropractor before so we'll be happy to explain our procedures and how chiropractic care can support you.
.